You are having a headache and do not know which elevator to choose for your beloved house that you have spent a lot of attention and money in? You are introduced to the home lift using screw or hydraulic motor, but you want a compact, beautiful home lift which must also have a higher speed and be able to reach the 5th-6th floor? Understanding your needs, SHANGHAI MITSUBISHI (SMEC) has launched the LEON-II, and just by looking, you already know this is the one you need. So what's so special about Shanghai Mitsubishi homelifts – LEON-II?
Possessing the outstanding advantages of tractor lifts
* high speed – 0.4m / s (compared to 0.15m / s or 0.3m / s for other models)
* very low vibration, noise level – less than 50dB (national standard is 70dB, just like the noise produced by a domestic refrigerator)
* no oil needed or oil leakage (risk of oil hydraulic lifts)
* everything is hidden in the pit (no hydraulic pump left outside)
Super intelligent
* Tractor motor is not geared with permanent magnet synchronous gear – saving electricity, low noise, high stability
* Integrated remote control via phone app: monitor operation of lift, control light color and brightness according to preference and season, fan …
* Emergency call out of the lift = 1 button, but can set up to call up to 5 different support numbers on the phone app
* Can install fingerprint child and pet lock. Installing and removing fingerprints is super simple. Can install up to 500 fingerprints.
* Ion water fan using Panasonic Nanoe ™ technology, high sterilization ability, up to 99.97% against Staphylococcus aureus bacteria (according to the conclusion of SGS Switzerland certification organization)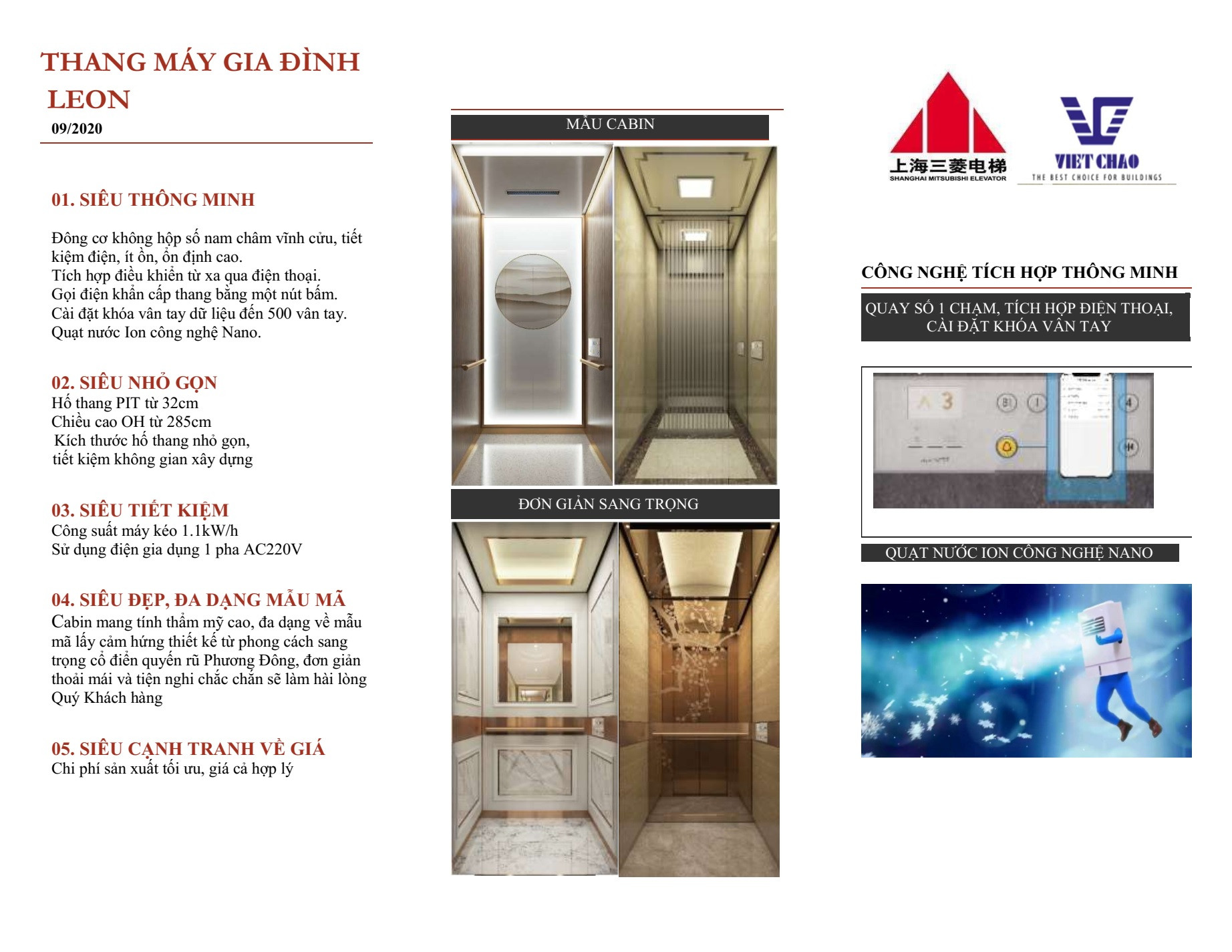 Super compact
PIT = 32cm, equivalent to only 2 steps, OH = 2.85m (can be mounted on the attic of the villas). The size of the pit is less than 1.5m x 1.5m, saving construction space.
Super energy-saving
Tractor capacity = 1.1kW / h, lower than the consumption of an induction cooker. Use common household grid current 1phase AC220V, so construction is simple.
Super beautiful
Beautiful cabin design, luxurious, elegant and cozy. Beauty is easily observed from buttons, to cabin walls, to ceilings …
Super reasonable price
This is the competitive advantage of Shanghai Mitsubishi products over other big brands.
Related Shanghai Mitsubishi products: