Elevators help users move more conveniently, faster and are the most important means of transportation for people with disabilities. Lifts for disabled people is a type of elevators for people with disabilities and people in wheelchairs. With almost 20 years of experienced, Vietchao Company specializes in providing elevators and lifts for people with disabilities.
Technical regulations on elevators for disabled people
Technical regulations on elevators for people with disabilities are specified in Point 2.5 of National Technical Regulation QCVN 10:2014/BXD on Construction of works to ensure accessibility for people with disabilities. Accordingly, lifts for the disabled must ensure:
Dimensions of the lifts for the disabled: the clearance size of the elevator door after opening is not less than 900mm. Dimensions of clearance inside the elevator cabin are not less than 1100mm x 1400mm. The size of the waiting space in front of the elevator door is not less than 1400mm x 1400mm.
Wheelchair lift doors must be fitted with a self-closing device. Opening and closing time must be greater than 20s to ensure safety for people with disabilities. In the elevator, it must be designed with handrails.
The control panel in the elevator cabin is installed at a height of not more than 1200mm and not less than 900mm from the floor of the elevator to the center of the highest control button. The control buttons must have characters with contrasting colors or perceptible signals and Braille system for the visually impaired.
The sign showing the number of floors corresponding to the position of the elevator is lit or has a speaker system to announce the users outside and inside the elevator. Next to the elevator exit at each floor must be equipped with Braille characters for the visually impaired.
Types of lifts for disabled people
If the lift is divided for the disabled according to the existing traction technology, we have:
Screw-driven lifts
Screw-driven lifts use screw technology to operate. The screw lift consists of a long screw and a drive nut. As the screw rotates, the nut that engages the screw (and the lifting platform) will be raised and lowered. The screw elevator for disabled people is the simplest elevator system in all types of elevators. Today, they are increasingly used because of the following advantages.
Advantages
The screw lift for the disabled has a simple structure, few parts, so it costs less for installation, maintenance and maintenance.
Because the elevator is small in size, it is suitable for houses with limited space.
Extremely safe. If the motor stops suddenly due to a fault, the elevator will rest on the rope so it cannot fall freely.
There is no need for a pit, so there is no need to dig holes, lose money, or break the house base.
Because there is no need to build a pit, the installation time only takes 2-3 days to complete.
High aesthetics, increase the value of the house.
Smart design easily meets all usage needs.
The screw elevator has a simple structure, so it is easy to change according to the needs of the owner. There are two types of elevator doors: automatic doors and manual doors. The height of the door is also flexible. Semi-height doors can be installed for narrow spaces. Walls are made of steel core panels, stainless steel and floors material range from aluminum, rubber, synthetic resin to stone floors. Elevator frame structure can be in painted stainless steel, or ultra-light aluminum.
Affordability.
See details about DomoFlex high-end screw lifts by Arealift, Italy: HERE
In addition to screw elevators, Vietchao also provides other simple but effective lifting platform solutions for people with disabilities.
EasyPlat
EasyPlat by Arealift uses electric motor.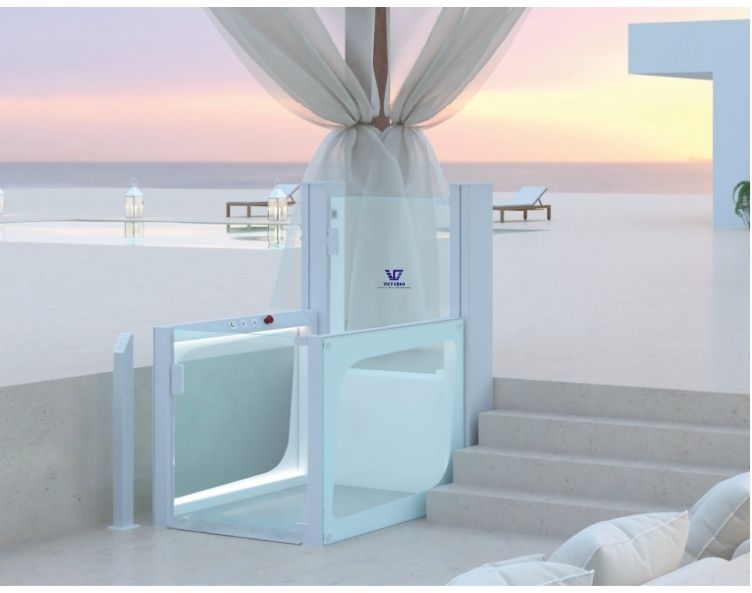 Advantages
Absolute safety
Any space can be used for installation
Almost no noise
Low cost of elevator and maintenance service
Installation time only 1 day
Italian design style, LED lights, two panels
No pits
Does not affect the surrounding aesthetics
Can be installed indoors and outdoors.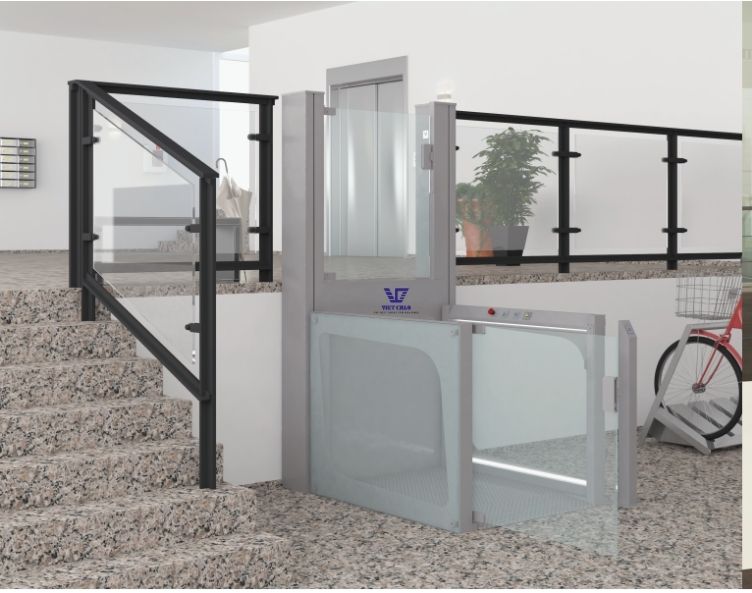 DomoStep 100A
The DomoStep 100A disabled lift, using screw technology, is a great alternative to stairs.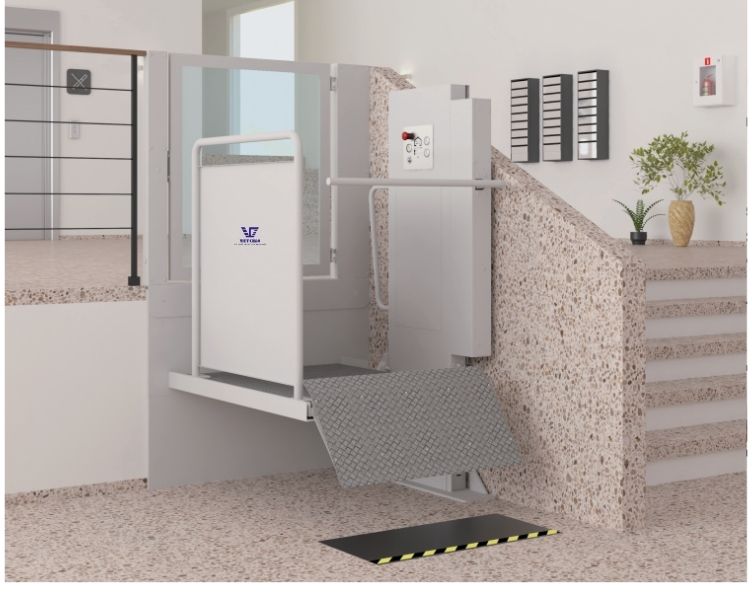 Advantages
High security and flexibility
Easy and quick installation
Battery-powered, so there's no need to run a fixed wire, just a standard outlet to charge the battery.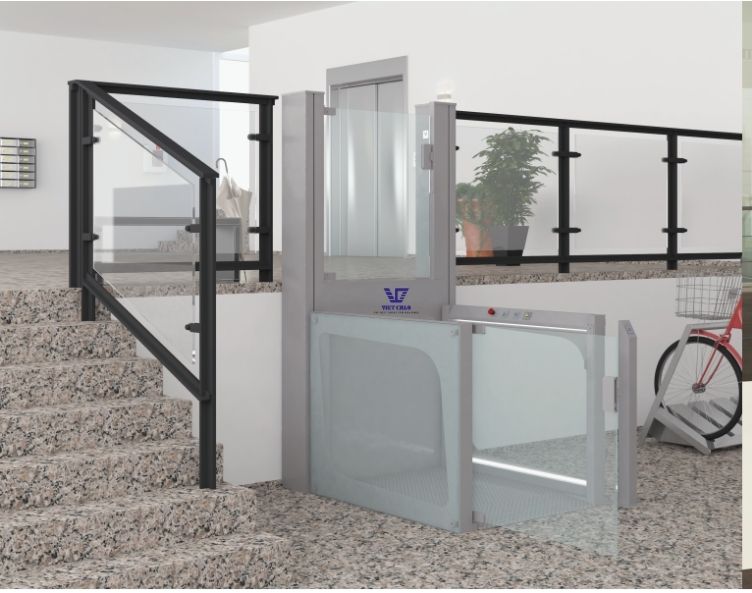 MiniPocket
Advantages
* Especially suitable when there are strict requirements on construction architecture.
* Attached to the floor. When closed, almost nothing is visible.
* Can be installed outdoors because the whole material is stainless, meeting IP54 standards.
* Hydraulic traction technology allows the elevator to carry heavy loads with high safety.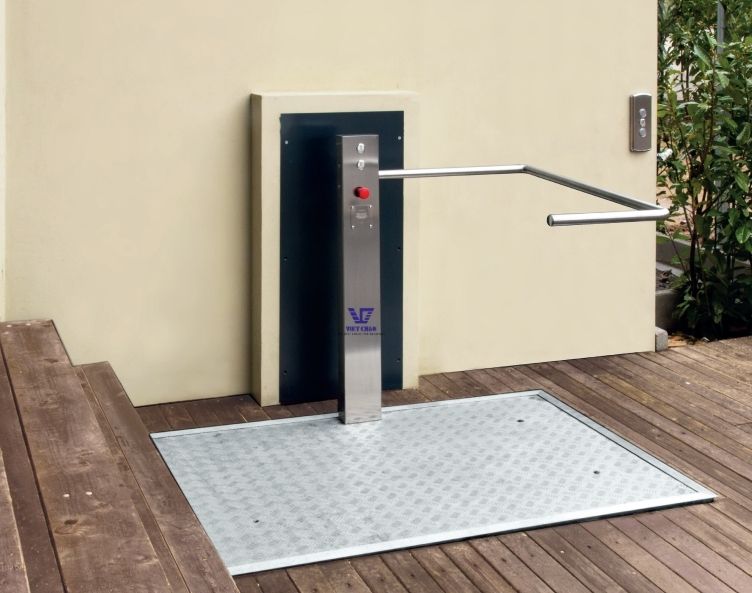 Cabin elevators
Cabin elevator is a traditional line of lifts for disabled people, widely used because of its ability to provide good safety protection for the needs of elevator use in practice. Because of its suitability with many types of works, the use of cabin elevators has become a reliable choice for many users and investors in providing transportation for people with disabilities.
Advantages
Suitable for many different types of projects from large to small.
There are different loads to choose from for purchase and installation.
Diverse models.
In terms of origin, lifts for disabled people can be divided into two types:
Joint-venture elevators
Joint-venture elevator is a line of elevators for disabled people with cabin frame, walls, doors being manufactured and assembled in the Vietnam and main equipment such as tractors, signal control system, control system, engine, rail, cable, door head, … being imported.
Advantages
Joint-venture elevators have a lower cost than imported elevators, about half the price, and maintenance and replacement costs are also lower.
In addition, due to the fact that the cabin is domestically produced, it can still be installed for elevators with non-standard pit sizes.
Construction time is fast, production and installation time of the joint venture family elevator is also within less than 90 days.
Imported elevators
Imported elevators is a line of elevators for disabled people imported completely from countries such as Thailand, Japan, Malaysia, China, Italy, … with brands such as Arealift, Mitsubishi …
Advantages
This is a product of famous brands in the world, produced on a closed line, so in terms of product design and quality, investors can rest assured when choosing to install elevators for people. disabilities.
Notes when choosing and installing lifts for disabled people 
Elevator doors and cabin doors
The elevator door is an extremely important part; this is the part that helps the user to move inside the cabin.
Elevator doors for the disabled need to ensure the correct size according to standards: elevator doors open and close automatically or for central opening doors, the door width must be at least 700mm to ensure that wheelchair users can move freely. Elevator door safety devices must always be in good working order, because disabled people will always take longer to move in and out of the elevator cabin.
The opening or closing time of the elevator for the disabled will be set slower than that of a normal elevator. The photocell door safety system of the lift for the disabled always needs the best and most stable operation.
In the elevator cabin
Regarding the interior dimensions of the lift cabin for the disabled people, there should be enough space for the users to turn their wheelchairs.
Inside the lift cabin for the disabled, mirror stainless steel should be used for the disabled to easily observe.
The door sill groove must be level with the floor to prevent users from tripping when moving in and out of the elevator.
Elevator control panel
The control panel system in the cabin needs to be designed with a height just enough for wheelchair users to control.
Control panel buttons need to have characters, contrasting colors, braille to assist visually impaired people when using the control panel.
Elevator sound signal
Audio signals will help people with vision problems, using sound to announce the use of floors or opening and closing stairs, helps users determine the current position and direction of movement.
Elevator rescue feature
Alarm bell system, automatic rescue system must always work properly, especially alarm bells must be placed in a low position, easily accessible, making it easy for people with disabilities to recognize and control.
The reason for installing lifts for disabled people of Vietchao
With the mission of bringing the most convenience, safety and comfort to customers when using elevator products, we are the best elevator installation company in the Vietnamese market that customers can choose from and trust for such reasons such:
Wide range of products (screw-driven lifts, cabin lifts, hydraulic elevators, domestic elevators, imported elevators)
Ensure all equipment and components are high-quality genuine products, ensuring safety when using and high durability.
Elevator installation time is quick and professional with a team of technicians with many years of experience.
As the company that installs the elevator with the best price on the market, it also means that the company has the most competitive prices.
There is a full warranty policy for customers and a periodic elevator maintenance inspection schedule.
Professional and fast technical support service. Providing dedicated and detailed advice to customers.
People with disabilities are already lacking in all aspects, so there is a need for solutions to help them blend in with the community in the most natural way from the simplest of moving things. Lifts for disabled people provided by Vietchao act as a good friend to help people move between floors easily.
CATALOGUE: DOWNLOAD